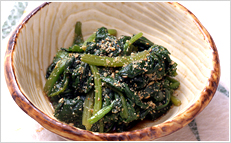 It is mixture of ground white sesame and moderate amount of black sesame. As for white sesame, it toasted 2 times for best fragrant. You can use it easily without further grinding.
| | |
| --- | --- |
| Ingredients | Sesame |
| Net weight/Pic./Size | 50g(1.41oz.) 175*90*10mm |
| Price | US$2.7 |
| | |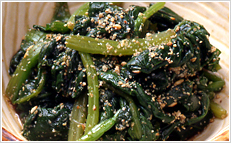 Instant toasted sesame already included some seasonings so it is easily used for cooking. Just only mixing it to boiled vegetables, then you can enjoy healthy meal which is filled with nice flagrance of toasted sesame. 1 pack of instant toasted sesame contains 140g spinach.
Ingredients
Sesame, sugar, dried soy sauce (soy sauce, dextrin, salt), salt, yeast extract, powdered dried fish (bonito, sardine, mackerel), powdered sea tangle, (include wheat)
CONTAINS:WHEAT,SOY,MACKEREL,SESAME
Net weight/Pic./Size
10g(0.35oz.) 120*80*10mm
Price
10g×12 Serv. :US$9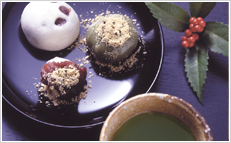 It is mixture of 60% soybean and 40% black sesame, ground together. Soybean are called "meat of farm" and sesame are called "edible medicine". It is nice as toppings for ice cream, yoghurt, rice cake, milk and any kinds of sweets. Please add some sugar as your preference.
Ingredients
Soybean, Black sesame
CONTAIN:SESAME
Net weight/Pic./Size
80g(2.82oz.) 175*90*10mm
Price
US$3.8