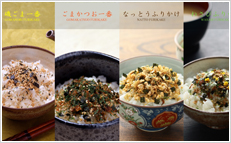 "The Shimanto river green laver FURIKAKE series" has 5 kinds of flavors.
"ISO-GOMA-ICHIBAN" and " GOMA-KATSUO-ICHIBAN" are our early FURIKAKE series, and they are loved not only for one's own daily meal, but also as s gifts. Small packed is very convenient for packing with lunch box. It is also recommended for those who like to feel special by having a personal pack.
We also have "SAKURA-EBI-FURIKAKE" which includes cherry blossom colored shrimp fished from our local SURUGA bay. "NATTO-FURIKAKE" has unique flavor of fermented soy bean.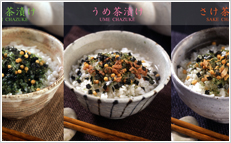 "The CHAZUKE include green laver picked up in SHIMANTO river series" has 3 kinds, Seaweed and Sour plum and salty salmon. They are additive-free natural food.
Point 1 : green laver … from SHIMANTO river (known as the last clear stream in Japan) only.
Point 2 : dried bonito … low fat bonito fished locally in YAIZU port around February and March.
Point 3 : sea tangle … used only EJIRI, HOKKAIDO grown, famous highest grade sea tangle.
Point 4 : small sized rice crackers … used only the TAKASAGO sticky rice grown in the north HIROSHIMA.
Point 5 : green tea …to enrich the taste, powdered green tea grown in KAKEGAWA, SHIZUOKA were added.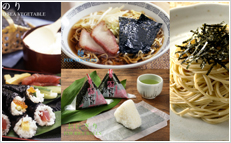 All are 100% made in JAPAN. Main production areas are ARIAKE Sea in KYUSHU, CHIBA and AICHI.
All products are toasted, cut and packed in our own factory. It means that it cost are cut and customer can purchase high quality products with low price.
Especially, the grade-B (not for gift) type is a bargain. It is suitable for self consumption.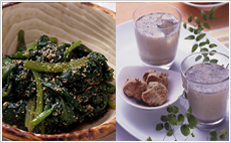 Sesame is very healthy seasoning. It is easy to use without any preparation to save time in one's busy life. "SURIGOMA" is convenient for cooking use. "GOMA-AE-NO-MOTO" which is instant tossed sesame, is easiest to use for cooking."KUROGOMA-KINAKO" which is roasted soy flour with black sesame is nice to be added to yoghurt, for healthy eating.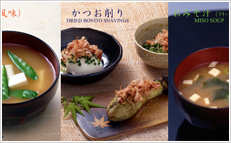 Today, UMAMI is world famous taste which is included in all Japanese cuisine. Those are some of the UMAMI products.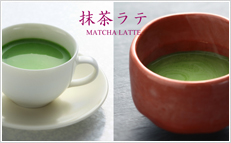 It made from high quality vivid green MATCHA and full-bodied milk. It is not so sweet and has good flagrance.
We use only ASAHINA MATCHA grown locally in SHIZUOKA.
We are proud of our MATCHA LATTE because it is very different from other product which is sweetened drink colored in green.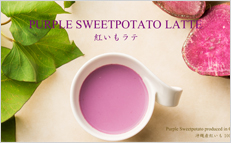 We produced Purple Sweetpotato Latte using mix technology cultivated by Furikake and the idea. It has sweet of purplepotato and good flagrance. We use 100% Purple sweetpotato produced in Okinawa.
Please enjoy its ingredients.
Purple Sweetpotato Latte was selected SIAL Middle East 2016 Innovation top 30.
We produced STRAWBERRY LATTE using mix technology cultivated by Furikake and the idea. It has sweet of strawberry and good flagrance. We use 100% BENIHOPPE strawberry produced in Shizuoka.
Please enjoy its ingredients.
We have arranged three types of Matcha(Powdered green tea).
Asa,Miyabi,Takumi.Takumi is the higest among the three.
What's differece?
Ans.Takumi is brightest green color among the three.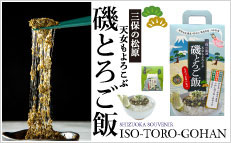 SHIZUOKA has the highest mountain, Mt. Fuji and the deepest bay, SURUGA Bay. SHIZUOKA is blessed with so many delicious foods from land and sea. We would like to let everyone taste SHIZUOKA foods. ISO-TORO-GOHAN is created by loving for our home province with much development period.
KAJIME as sticky seaweed, WASABI as Japanese horseradish, dried sardine, are noted product of SHIZUOKA.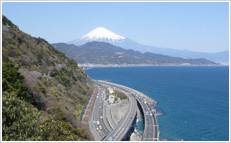 SAKURA-EBI as cherry blossom colored shrimp fished only locally in SURUGA Bay. It called "jewel of the ocean" due to its scarcity value. It has vivid pink color and marvelous taste.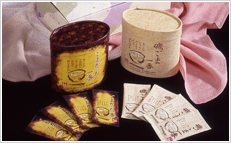 We can arrange any type of gift set depends on your preference and budget. Please feel free to ask if you have any question.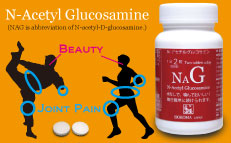 Agent and health food for skin care.It's good for Joint Pain and Beauty.