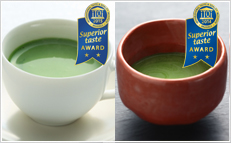 It made from high quality vivid green MATCHA GREEN TEA and full-bodied milk. It is not so sweet and has good flagrance. We use only ASAHINA MATCHA grown locally in SHIZUOKA. We are proud of our MATCHA LATTE because it is very different from other product which is sweetened drink colored in green.
In 2014 , 2015 and 2017, our Matcha latte won the iTQi Superior taste award.
How to make: Mix 1 pack with 100cc of hot water.Please add hot water slowly and little by little, so lumps would not form.
If you prefer to drink it cold, add 50cc hot water, mix it well and then add ice cubes.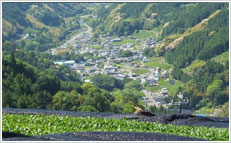 There is rich nature in ASAHINA, SHIZUOKA where it is the right place for tea growing.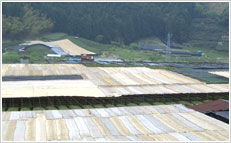 MATCHA GREEN TEA growing, same as GYOKURO growing, use straw to cover them from direct sunlight . In little sunlight, the tea leaves produce more chlorophyll and L-Theanine. And as a result, the MATCHA has vivid green color and UMAMI. Tea leaves has much nutrient composition, but most of all them are not water-soluble. However MATCHA is grounded tea so they are more nutritious.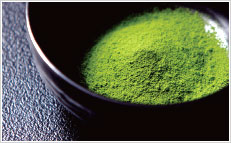 We use only high quality vivid green MATCHA.
Ingredients
Food Product Using Milk, Sugar, Matcha, Sodium Caseinate, pH Adjuster (Sodium Dihydrogen Phosphate, Citric Acid), Emulsifier(Soybean), Flavor
CONTAINS:MILK, SOY
Net weight/Pic./Size
①13g(0.46oz.) 120*80*10mm

②13g(0.46oz.) 120*80*10mm

500g(17.64oz.) 300*180*80mm
Price
13g×6(①,②each 3)Serv. :US$9
500g:US$40
13g×6Serv.

500g
Chibi Maruko-chan (Japanese ちびまる子ちゃん)
is
Japanese famous manga character
.
We have a license.
Ingredients
Food Product Using Milk, Sugar, Matcha, Sodium Caseinate, pH Adjuster (Sodium Dihydrogen Phosphate, Citric Acid), Emulsifier(Soybean), Flavor
CONTAINS:MILK, SOY
Net weight/Pic./Size
1BOX:13g(0.46oz.)×5Serv.
Carton size:220*150*50mm

Price
1BOX: 13g×5Serv. :US$9.00

1BOX