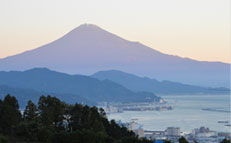 Mt. Fuji with SHIMIZU port, taken from NIHON-DAIRA, SHIZUOKA.
Our home, SHIZUOKA has the highest mountain, Mt. Fuji and the deepest bay, SURUGA Bay. SHIZUOKA is blessed with so many delicious foods from land and sea.
We would like to let everyone taste SHIZUOKA foods. ISO-TORO-GOHAN is created by loving for our home province.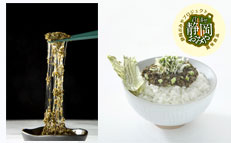 We produced new topping for rice named ISO-TORO-GOHAN as a special souvenir of SHIZUOKA. It contains KAJIME (sticky seaweed), WASABI (Japanese horseradish), and dried sardine, which are noted product of SHIZUOKA.
How to make
①Add a little (about 30cc) hot water to a pack of seaweed in a bowl.
②Mix well until they become sticky, and then put them on the rice.
③Sprinkle some flavor on it and add soy sauce as you like.
It is also nice for as topping for UDON noodle and SOBA noodle.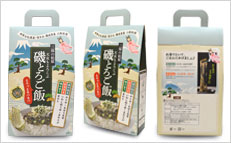 Each hand paper bag contains the following:
Ingredients

Pack of seaweed (dried KAJIME, WASABI, green laver)
Pack of flavor (dried sardine, sea tangle, brewed vinegar)

Net weight/Pic./Size
Pack of seaweed 6g
(dried KAJIME, WASABI, green laver) * 5 packs
Pack of flavor 5.5g
(dried sardine, sea tangle, brewed vinegar) * 1 pack
220*130*45mm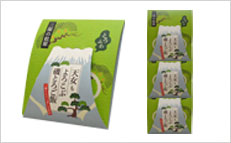 Each box contains 3 smaller boxes of the followings:
Ingredients
Pack of seaweed (dried KAJIME, WASABI, green laver)
Pack of flavor (dried sardine, sea tangle, brewed vinegar)
Net weight/Pic./Size
Pack of seaweed 6g
(dried KAJIME, WASABI, green laver) * 3 packs
Pack of flavor 1.5g
(dried sardine, sea tangle, brewed vinegar) * 3 packs
225×115×30mm