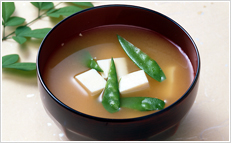 This is the instant stock filled with a lot of UMAMI of dried bonito.
It is in granule form, so not easily be scattered but easy enough to be dissolved in water.
Mix 1 stick-pack with 350cc hot water. It gives much UMAMI to MISO soup, Japanese stew and every kind of Japanese style cooking.
Ingredients
salt, milk sugar, seasoning (amino acid etc), sugar, savor materials (powdered dried bonito, etc), hydrolyzed protein
CONTAIN:MILK
Net weight/Pic./Size
3.5g(0.12oz.) 80*50*10mm
Price
3.5g×55 Serv. :US$9.5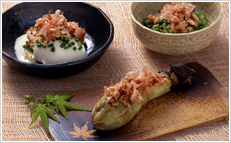 We select only high quality dried bonito carefully. The best taste is the moment immediately after shaving. We packed it to keep its taste and flagrance. And we used a special shaving technique to make it soft and gentle when tasted.
| | |
| --- | --- |
| Ingredients | dried bonito |
| Net weight/Pic./Size | 3g(0.11oz.) 90*120*10mm |
| Price | 3g×8 Serv. :US$5.3 |
| | |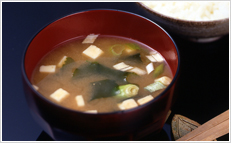 This pack includes freeze drying TOFU, seaweed, spring onion, MISO and DASHI as UMAMI stock. It also includes the extract of SHIJIMI clam as they have a lot of UMAMI.
Put all materials in a bowl or cup, add 160cc hot water. It contains 1.35g of salt.
Ingredients
Rice MISO (soy bean, rice, salt), bean MISO (soy bean, salt), extract of bonito, extract of SHIJIMI clam, sugar, ethyl alcohol, seasoning (amino acid etc), (*never use GMO), filling(TOFU, seaweed, spring onion, dried bonito, beet sugar, salt)
CONTAIN:SOY
Net weight/Pic./Size
7.3g(0.26oz.) 100*90*10mm
Price
7.3g×6 Serv. :US$7.5